In Search Of A Good And
Quality Medical

Hospital ?
Anusha Fracture and Orthopaedic Hospital in Vadodara
Anusha Hospital is an Advanced Orthopaedic Hospital at the Prime Location of Gotri Road, near Natubhai Centre, before Harinagar fly over. It was started in 2002 by Dr. Ashit Mehta. The hospital is committed to excellence in every field of Orthopaedic work and caters to patients from all over Vadodara and nearby districts as well as patients from the states of Madhya Pradesh and Rajasthan.
The hospital has been designed keeping in mind the nature of problems faced by orthopaedic patients. Hospital is situated on ground floor with a very smooth ramp to enter the hospital. We are also equipped with a Stretcher Lift and have Availability of Number of Wheelchairs, Stretchers and Personnel for easy Transport of Patients. The hospital also has a spacious waiting room for the comfort of patients and accompanying family.
The staff is cordial and helpful in all situations which ensures a comfortable stay for the patients in the hospital. Our unique feature is to ensure that the patients do not feel that they are in a typical hospital. They feel at home by the very friendly and supportive nature of all the hospital staff. This is the feedback that has been received from most of our patients.
Hospital has a Digital X-Ray Machine with 24 hours X-Ray and Emergency Services, Highly Equipped Operation Theatre with all the Latest Equipments. We also providehealthy food of very good quality at no extra cost to the patients.
Hospital has very well Planned and Spacious General, Semi Special, Special, Deluxe Room with all the Modern Amenities to make the Stay Very Comfortable. We also have well equipped and spacious air conditioned physiotherapy centre run by a team of highly experienced and committed senior physiotherapists. The hospital also has an in - house medical store run by an experienced pharmacist.
Our motto is to provide the best Orthopaedic care to one and all with utmost care and compassion. To provide a healthy positive atmosphere conducive to health to all the patients during their visits or stay in the hospital.
We have a team of very dedicated and committed doctors, nursing as well as reception staff who are ever smiling even in the toughest of situations.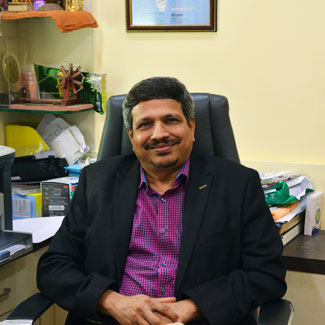 Dr. Ashit Mehta
M.S. (Ortho)
Dr. Ashit Mehta is a very senior Orthopaedic Surgeon with a very vast experience. After finishing his MS Orthopaedics from Baroda Medical College in 1989, he gained further training at Hinduja Hospital and Sion Hospital, Mumbai. He started his career at Yogini Vasantdevi Hospital as a full time orthopaedic surgeon in 1990. He gained vast clinical experience as well as tremendous amount of good will from large number of patients operated and treated by him. He started his private practice at SansthaVasahat, Raopura, Vadodara in 1994. He started Anusha Hospital in 2003.
He has experience of dealing with routine as well as Complex Orthopaedic Trauma, Spinal Surgeries, Knee and Hip Replacement and Various Problems Related to Neck and Back Pain and Joint Disorders. He has taken part in numerous national as well as International Orthopaedic Conferences and Workshops. He is always updating his knowledge with the latest advances in orthopaedics.
He has a very pleasant personality and will ensure that patient coming in any complex condition would feel comfortable and is treated with utmost care, compassion and expertise. He has been actively associated with Orthopaedic Associations and has been a member of the Executive Committee of Indian Orthopaedic Association, as well as being a past President and Secretary of both Gujarat Orthopaedic Association and Baroda Orthopaedic Association. He has successfully conducted conferences at state level and CME at national level.
Hospital Facilities
22 Bed Hospital
Hospital with a ramp on Ground Floor and Stretcher Lift
In House Pharmacy - Medical Store
High Tech Operation Theatre with all Modern Equipments
Digital X-Ray Machine with Highly Trained X-Ray Technician
Fully Equipped Physiotherapy Centre
Spacious Deluxe, Special and Semi Special Rooms, General Wards
24 hour Power Back Up
Automatic Panel 62.5 KV Generator
Treatment Facilities
All types of Trauma Surgeries - Simple as well as Complex
Knee & Hip Replacement Surgeries
High Tibial Osteotomy for Knee Deformity and Early Osteoarthrosis
Arthroscopic Surgeries for Ligamentous Injuries of Knee and Osteoarthrosis
Arthroscopic and Open Surgeries for Disorders of Shoulder
Spinal Surgeries - Treatment of Problems related to Disc Prolapse, Spinal Canal Stenosis and Listhesis